Imagine getting a candle for a gift and as it burns there is another surprise inside waiting for you. Jewelry!
I don't know about you but I love candles. I love the smell they leave in a room and the gentle light they leave. And I love jewelry. I mean, what girl doesn't?
While the idea of jewelry in candles is not brand new, there is a new idea behind it that I love.
No more ordering a candle and hoping you get something you like or that fits.
Jewelry in Candles not only offers 100% soy based, clean burning candles but they are a family owned company and all candles are hand poured in the USA.
They go one step further. Not only can you pick a candle in a scent the receiver is sure to love but you get to pick the type and size of the jewelry. You can chose from earrings, necklaces, or ladies rings in sizes 6 to 9.
There is still a total element of surprise as you won't know exactly what piece of jewelry is hidden inside.
The jewelry found in our candles ranges in value from ten dollars to several thousand dollars. You will discover jewelry varying from silver plated to gold plated–some with stones made from cubic zirconia or other materials. With more valuable jewelry discoveries, you may find titanium, solid sterling silver, solid yellow and/or white gold. Some may also include real diamonds, rubies, or other precious jewels. Just when you thought we were done with all the excitement… we have bonus jewelry candles that could arrive in your order that contain hi-tech electronics and other grand prizes yet to be announced. As our company grows, so will our prizes. One thing is for sure–you will be impressed!
No matter when you order you can use this Jewelry in Candles Coupon Code to save.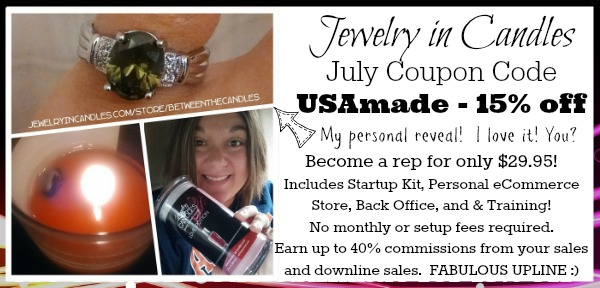 Work From Home with Jewelry in Candles
Not only can you buy these great gifts for anyone you know but you can also sell them. How awesome is that?
For only $29.95 you will get a full Start-up Kit. There is no other setup or monthly fees required to join or continue being a JIC rep.
Representative Kit Includes:
– Representative eCommerce Store
– Representative Scent Samples
Representative scent samples include 20 scent samples: *Apple Harvest, Baby Powder, Banana Nut Bread, Birthday Cake, Black Cherry, Chocolate, Cinnamon, Clean Cotton, Cotton Candy, Day at the Spa, Coffee, Honey Suckle, Honeydew, Island Hibiscus, Lavender, Pecan Pie, Pumpkin, Strawberry, Vanilla, *and* Watermelon.*
You read that right. For only $29.95 you will have your own online site and can sell Jewelry in Candles yourself.