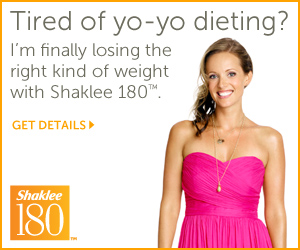 Just last week it was announced that I am one of the newest Shaklee 180™ bloggers. What this means is that starting in March I will begin using the Shaklee kits in order to drop some weight while still retaining the muscle I have. I am thrilled at this announcement and I cannot wait to get started.
Over the next 6 months I will be sharing through videos, blog posts, and other social media my inch loss and weight loss each month through August 2013. Out of 460 bloggers who applied, I am one of the 90 women chosen for this program.
Stay tuned for my first update including pictures and weight in early March. Then follow along with me over the next 6 months as I set out to transform myself.
Because lets face it, I am worth it!